Los Angeles Economic Development – YJ Draiman
It is time to remake Los Angeles in the image of our boldest vision – a city of healthy communities with good schools and quality education, innovative companies in new and emerging sectors, quality open space, improved public transportation, a range of mobility and housing options; and above all, a prosperous and productive middle class equipped with the skills and education to create a better future.
It is time to get serious about designing a real economic development program linked to investments in healthy communities. I recently proposed to make Los Angeles the World Capital of Renewable Energy, Energy and Water Efficiency. We have the climate, the manpower, the resources and technology. We must promote energy and water efficiency in all sectors of LA's economy. This by itself can save the city billions and bring many jobs and economic growth into Los Angeles. We should promote real estate gentrification, affordable housing, urban infill building, economic development and clean tech sorted through the parts of redevelopment worth retaining and retooling combined with some newer elements of economic development necessary to realize this vision of healthy communities.
In the past five years many businesses in LA have closed down or moved out. There are many vacant properties (commercial and residential). Many people have moved out of LA. They can not afford the cost of living, the high taxation, the stifling bureaucracy and varied rules and regulations that choke business development.
We have a dysfunctional leadership in Los Angeles, an inefficient workforce, a demand for entitlement, and crippling budget deficits that are creating an environment of uncertainty for many companies who want to hire people, but are afraid to do so. Capital is stagnant and unattainable, frozen by an over swing of regulation and bureaucracy. We want to get Los Angeles working again, yet many of our wounds are self inflicted, as LA bureaucrats go to work every day piling more regulations and taxes onto the very businesses we ask to grow and create more jobs. This situation must change, or we are doomed.
It is imperative that we reverse this trend.
YJ Draiman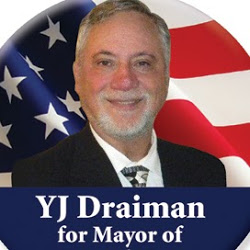 Los Angeles 2017
To be the Mayor of Los Angeles is a great responsibility – treat it with respect!
The position of a Mayor of the City of Los Angeles is an enormous undertaking and a great responsibility. It must be assumed with the yoke of great duty and humility; one must bear the weight of such revered position and earn the trust and honor to serve the people of Los Angeles. Only with such state of mind and intent can an individual honestly lead the Great City of Los Angeles.
The Mayor must serve as an example to his staff and the people in honesty, integrity and fiscal responsibility. To serve the people of Los Angeles is no easy task and it must be performed in a manner that projects the Mayor as the leader of all the people of Los Angeles with no exceptions. The Mayor of Los Angeles must represent the aspirations and goals of the people he serves and not the special interests.
The Mayor should revitalize the City of Los Angeles and restore public faith and confidence in City Hall, by taking actions that benefit the people. He should promote business and streamline bureaucracy, institute a strict financial responsibility, promote and enhance the education system, devise and implement system to eliminate corruption and fraud, rebuild the infrastructure and expand public transportation.


LA's Bureaucracy is detrimental to business growth